Where did the year go? A summary
27th November 2014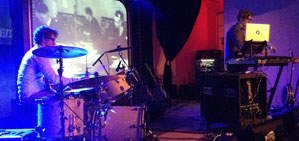 As we approach the end of the year here at DBM HQ we find ourselves asking the question, where did the year go? We've had showcase festivals like The Great Escape and Liverpool Sound City . Various summer festivals including Rachael Sage at Cornbury and Common Tongues at 2000Trees. A showcase summer party for A3 , a truly lovely visit to the fabulous Reeperbahn Festival where Common Tongues played a set in a bunker in Hamburg and two German tours. We've been debating discovering new talent on a panel at the LIVE UK Summit  listening to very informative panels at AIMs Indie-Con and we have a judging panel For The Big Music Project on tour in Bournemouth tomorrow, it's at the BIC and its free so come on down!
Other news, Common Tongues have been recording with LoveMusic's producer of the year, Gavin Monaghan (Editors/The Twang/Scott Matthews/Robert Plant) through the desk The Kinks smashed and kicked 'You really got me' out of! You can hear the band showcase their new songs in London at the Barfly January 29th 2015  http://mamacolive.com/thebarfly/listings/upcoming-events/11491/knights-model-society-depot-day/
Rachael Sage is back in the UK and Ireland February/March next year with Judy Collins promoting the track 'Helpless' which is a duet with Judy Collins. Rachael is also touring with Aled Jones through March.
We also have a hot tip for touring musicians who can't always take their equipment with them, try this website, it works like Air BnB, but for equipment loans Sparkplug